"Considering life sciences as a whole body of knowledge, we know only between 0.1% and 0.01% of what we need to know," said Nobel laureate Tasuku Honjo on 30th March 2019 at an event to celebrate the 10th anniversary of the 21st Century Medical Forum. Honjo, who won the 2018 Nobel Prize in Physiology or Medicine for his work on cancer immunotherapy, explained how the paucity of knowledge makes progress in medical research challenging. Rather than taking known steps towards a fixed goal, such as 'rocket scientist' might, medical researchers often make large leaps through serendipitous discoveries. "Many people have mistakenly tried to cure cancer by design, but have failed, whereas we discovered PD-1 by accident," said Honjo, referring to his discovery of a protein that plays a key role in tumor immunology.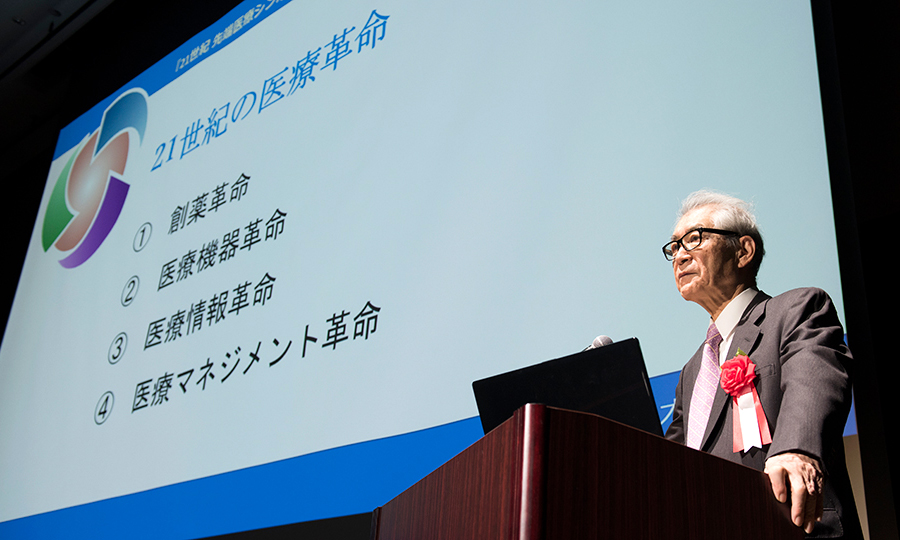 The 21st Century Medical Forum is a Japanese thinktank that seeks to address medical problems and inform government policy.
The symposium highlighted cutting-edge medical therapies and the directions of the current revolution in medical treatment. Honjo, who is president of the Foundation for Biomedical Research and Innovation at Kobe, said that improved strategies for disease prevention and treatment, big data science, and new medical devices are set to transform medical care globally.
One of the most potentially disruptive strategies for treating disease is regenerative medicine, where doctors harness the natural healing capacity of the body, Masanori Fukushima, director of the Translational Research Center for Medical Innovation (TRI), told the delegates. By using patients' stem cells — special cells that can form a range of different kinds of cells — medicine is entering a new era in which diseases that do not respond to conventional therapies can be potentially be treated. Fukushima described some of the projects that researchers supported by the organization are conducting, such as using stem cells to heal bone fractures, perforated eardrums, and severe damage to the surface of the eye.
 Hiroyuki Mano, director of the National Cancer Center Japan, said another disruptive area of medical research is the use of genetic profiling to combat cancer — the world's biggest killer. He explained that oncologists have radically altered the way they categorize cancers in recent years. Previously, they primarily classified cancers according to the organ in which they occur, but recently they have increasingly recognized that the genetic make-up of a tumor is an important factor, because cancers with similar genetic profiles can be treated by similar therapies.
"One organ can host many different types of cancer, while one type of cancer can affect many organs," said Mano.
 Since people react differently to cancer therapies because of their different backgrounds and genetics, it is vital to establish a cyberoncology database, Manabu Muto, professor of therapeutic oncology at the Graduate School of Medicine and the Faculty of Medicine at Kyoto University said. Japan is uniquely placed to gather comprehensive medical data from patients as it has a large population and nearly universal healthcare coverage, Genta Kato of the Solutions Center for Health Insurance Claims at Kyoto University Hospital noted.
Japan is also well positioned to contribute to the third area nominated by Honjo, medical devices. Japan has long led the world in the area of robotics and Yoshiyuki Sankai, president of the robotics company Cyberdyne, discussed the latest developments in the area of cybernics, the use of robotics to assist the medical treatment and rehabilitation of humans. He provided dramatic examples of how cybernics is transforming and accelerating rehabilitation, including a video of a 14-year old boy whose legs were paralyzed, but who was, to the delight of his mother, able to move his legs after using a robotic frame that senses the signals sent from the brain to the legs.
"The tremendous advances made between the 1970s and 2000 have resulted in amazing developments in medical technology that have made a revolution possible," said Honjo.