Nobody could accuse the Translational Research Center for Medical Innovation (TRI) of looking only at the short-term. Its goal is to realize a society in which people can enjoy active lives to 100 and beyond. TRI regularly hosts meetings at which medical researchers present their latest breakthroughs in this pursuit. The eighth meeting in this World Centenarian Initiative series was held on 29 October 2018 in Tokyo.
TRI has identified specific steps to attaining their ambitious goal. In his opening remarks, TRI's director, Masanori Fukushima, noted that one of these steps, the restoration of damaged vocal cords, has been realized, while four others — the restoration of damaged blood vessels, hard-to-heal broken bones, damaged ear drums, and damaged nerves — may be achieved within a year.
To recognize top-class work from TRI-affiliated researchers, there was an award ceremony for the three most-cited recent studies. First prize went to Takeharu Yamanaka of Yokohama City University, whose 2007 study on how the ratio of two types of immune cells provides a reliable outcome indicator for patients with advanced stomach cancer, has been cited more than 300 times. Satoaki Matoba of Kyoto Prefectural University of Medicine came second for his 2008 paper on the long-terms outcomes of bone marrow cell transplant in patients with chronic limb ischemia. Satoshi Teramukai of Kyoto Prefectural University of Medicine was third for a 2009 study on how the count of neutrophils — a type of white blood cell — is a useful prognosis factor for patients with advanced non-small-cell lung cancer.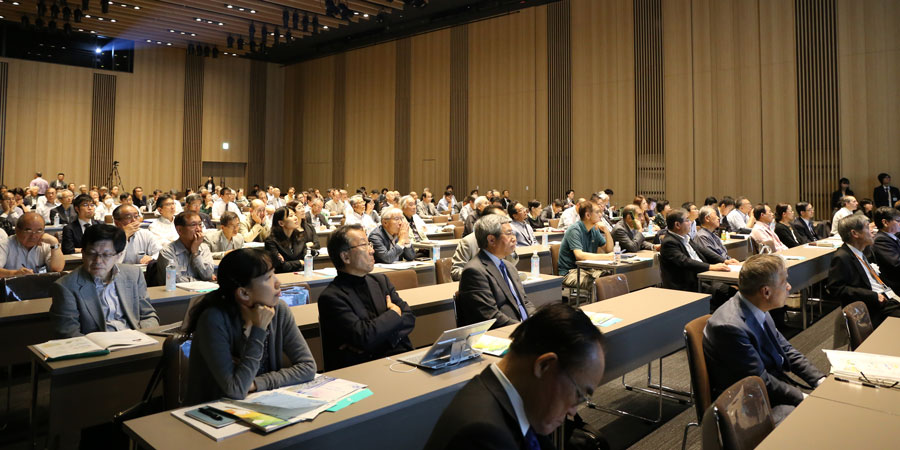 In a departure from the usual programme, the meeting's opening address was given by the mayor of Matsumoto city, Akira Sugenoya. Many towns in rural Japan are facing the problems associated with a rapidly ageing population. But Matsumoto has been defying this trend thanks to policies that seek to "create a life worth living" by promoting walking and other activities. It was a great reminder that while medical advances are important, it is vital to adopt a holistic approach to health that incorporates exercise.
Stem cells were a hot topic in the remaining talks. Researchers discussed using stem cells to heal critical limb ischemia — severe blockages in the arteries that can lead to gangrene, ulcers and ultimately, amputation; to heal broken bones that do not respond to conventional treatment; and to restore brain function lost through neurodegenerative diseases.
In other talks, Masafumi Ihara of the National Cerebral and Cardiovascular Center discussed a novel approach for treating Alzheimer's disease and other degenerative cognitive conditions that involve restoring damaged blood vessels in the brain. Chung Hsu of the China Medical University Hospital in Taiwan discussed how healthcare-based big data has been used in Taiwan to establish real-world evidence —  more than 1,200 papers have been published that show observations not otherwise detected by clinical research or trials.  For example, patients with diabetes were noted to have an increased risk of developing more than 10 types of cancers including those in the head, neck, thyroid, lung, stomach, gall bladder, colon and other organs, and sleep aponea was noted to increase stroke risk.
The meeting closed with a session on new frontiers in regenerative medicine. Shinya Minatoguchi of Gifu Municipal Hospital talked about exciting research that suggests that stem cells known as multilineage differentiating stress enduring cells, or 'muse cells' for short, could be harnessed to accelerate the body's self-repair system.
The meeting highlighted the successes achieved to date by TRI researchers, the pending medical advances, and their longer-term goals. 
Related links